A huge update of our subscription plans! It has become even more convenient to choose a plan based on your needs:
1. Flexible choice of the duration of your subscription
From now on, you have more options: you can purchase the 'Zero Gravity' package for 1 month, 3 months, 6 months, or 1 year; the 'Cosmic Bibliography' package is available not only for 1 year but also for a shorter term – 6 months.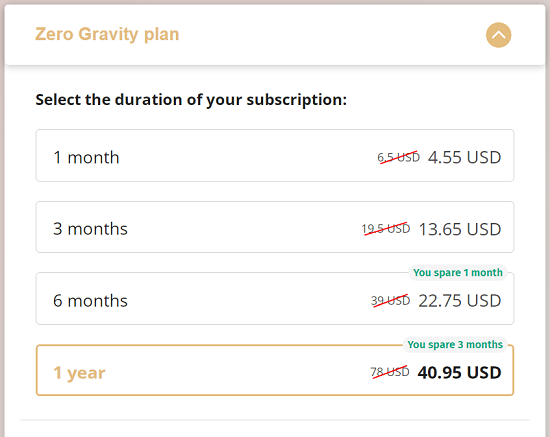 2. The more – the cheaper
A 1-year subscription to the 'Zero Gravity' package has become even more advantageous: from today, when purchasing your yearly access at once, you spare the cost of three months of subscription instead of two.
The 'Cosmic Bibliography' plan is more advantageous when purchased for a longer period as well. From February 1, 2022, the prices for this plan will be raised, so do not forget to purchase your subscription at the current price.
3. Other cool things
Gift certificates (

highly recommended!

) – make a gift to your close person (especially while we are having the 30% discounts until January 10).
Great design, comfortable payment. We did our best to ensure your comfort when using our plans and making a subscription. Visit our updated subscription page and see how great the changes are!
FAQ. For your convenience, we have provided the basic information related to the payments and purchases right on the subscription page: just scroll down a bit.
Discounts, again: –30% on all packages until January 10!