Our website now has a new citation style: APA (6th ed.).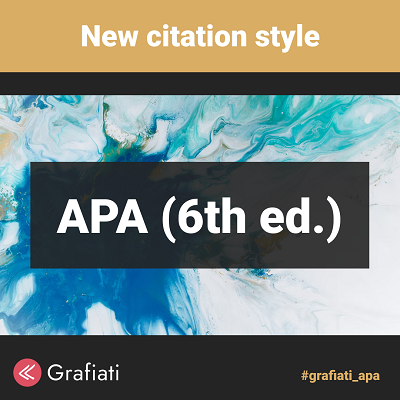 The 6th edition is the previous edition of one of the most popular international citation styles – APA (American Psychological Association).
In 2020, the new – 7th – version of the standard was published; this newest version is used every day by thousands of our users for their bibliographic references. However, the previous edition of APA Manual is still being applied by many scholarly journals and publishing houses, and there are a number of significant differences between the two editions (for more information about the differences, refer to this article).
Therefore, responding to the demands of our customers, we have developed the algorithms for generating bibliographic references and in-text citations in accordance with the requirements of the 6th edition of APA Manual of Style. The new feature allows you citing sources in APA (6th ed.) with maximum comfort and minimum effort, as well as converting your bibliography into any version of APA Style or any other citation style in one click.